"Maggie the Indestructible" - Blazing The Trail With A Camera In Hand
A woman of many firsts, Margaret Bourke-White was the first female war correspondent and the first woman to work in combat zones during WWII. Having traveled to Moscow just before Germany broke its pact of non-aggression and invaded the city, she was the only foreign photographer in Moscow during the invasion, where she captured the firestorm from within the US Embassy.
Moscow under fire, 1941.
She was the first photojournalist for Fortune magazine, and the first female photojournalist for LIFE magazine. Her photograph of Fort Peck Dam was on the cover of the first LIFE magazine in 1936.
Bourke-White's photograph of Fort Peck Dam on the cover of the first LIFE magazine, 1936.
Her body of work includes chronicling Dust Bowl devastation, the India-Pakistan partition violence (including photographs of Gandhi and Pakistan's founder, Mohammed Ali Jinnah), and the aftermath of the newly liberated Buchenwald Concentration Camp.
Gandhi at his spinning wheel, 1946.
In 1963, she published her bestselling autobiography, Portrait of Myself. She died from Parkinson's Disease in 1971, but she lives on in her unflinching documentation of some of the most pivotal events of the 20th century. Her photography is on display at the Brooklyn Museum, the Cleveland Museum of Modern Art, and the Library of Congress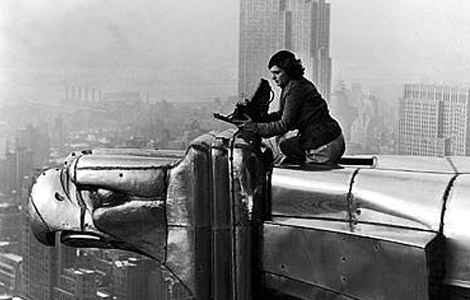 Bourke-White enjoying a bird's-eye view from atop the Chrysler Building.
Happy Birthday Margaret Bourke-White (June 14, 1904 – August 27, 1971)